SPECIAL SHIPPING PROMOTION
Free Shipping for U.S. Deliveries and
Free or Nearly Free Shipping for International Deliveries!
– Allen Meadows to autograph books for all orders of 8 or more books! –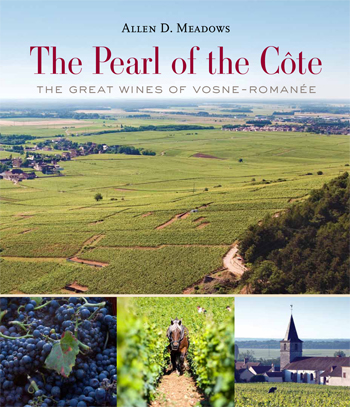 The Pearl of the Côte
The Great Wines of Vosne-Romanée
by Allen Meadows $59.99

U.S. BOOK PURCHASERS:
FREE SHIPPING for all books ordered for U.S. delivery! (Excludes Puerto Rico, Hawaii and Alaska contact MrsBurghound@Burghound.com for special coupon.) View details below.
INTERNATIONAL BOOK PURCHASERS:
FREE OR CLOSE TO IT! For books shipped outside of the U.S., the following discounts are available:
1 book - $20 off shipping
8 books or more = up to $160 off shipping* View details below.
*Discount not to exceed the actual shipping amount
(Note shipping is greatly reduced with each additional book one book to Vancouver is about $23, but 8 books is $60 so shipping would be free; 1 book to Australia is about $60 but 8 books is $175 so shipping would be only $15; 1 book to Russia is about $85 but 8 books is $295 so shipping would be only $135)

(For retailers and large quantity discounts we have our wholesale quantity program established and feel free to write MrsBurghound@Burghound.com for more information).
About Pearl
Burgundy authority Allen Meadows guides the reader on a captivating and richly detailed journey through Vosne-Romanée, the most legendary region in Burgundy historically and aptly called La Perle de la Côte or The Pearl of the Côte. Whether you are a novice or an experienced connoisseur, you will greatly expand your wine knowledge with this 350-page treatise as you learn the rich and fascinating history that contributes so much to what makes these inimitable wines so special.
Meadows, known to wine lovers around the world as Burghound, explores the underlying terroir of each of Vosne's grands and premiers crus explaining its significance in the vineyards and giving wine lovers the insight necessary to know what they should expect to find when opening one of these masterpieces.
Pearl is packed with useful information including the history of each terroir, the top producers, specific grower holdings, and collecting tips. To help put it all in context, Pearl includes original and meticulous modern maps, creative art work, and stunning photography.
Meadows' extensive coverage includes a full chapter on each of the Vosne-Romanée grands crus — Echézeaux, Grands Echézeaux, La Grande Rue, Romanée St. Vivant, Richebourg, La Romanée, La Tâche and Romanée-Conti and complete coverage of every one of the Vosne-Romanée premiers crus (Les Beaux Monts, Les Brûlées, Cros Parantoux, Les Gaudichots, Les Malconsorts, Les Suchots and more). There is also a chapter describing what could well be the greatest tasting ever held 74 vintages of Romanée-Conti, from 1870-present. Here you will find associated tasting notes including Meadows first 100-point wine!
For those who wish to become an expert on the wines of Vosne-Romanée and Flagey-Echézeaux, there is simply no better way than to pour a glass of your favorite Vosne while enjoying the most complete exposition on the region ever written.
Special Promotion Purchase Details
U.S. BOOK PURCHASERS need to go to this link to place your order. You will see on the order form before placing your order that shipping is $0. (not to be used for Puerto Rico, Alaska and Hawaii deliveries) . Order here
INTERNATIONAL BOOK PURCHASERS:

1 book $20 shipping discount = $20coupon (in the shopping cart enter this code which is case sensitive in the redemption code box). To buy, just click on this link.
8 or more books use this special link for the $160 discount: Click here. Allen will autograph books for all orders of 8 or more books.
To clarify:
For U.S. deliveries for free shipping click here: click here.
For International deliveries, to purchase with $20 shipping discount coupon click here.
For International deliveries, to purchase 8 or more books with free or nearly free shipping click here.
* Offer only valid while this message is posted and may be removed at any time. Purchases made while this offer is listed will be honored.